noon.com, the region's leading online shopping destination, has launched a number of kindness initiatives this Ramadan to support underprivileged communities across the UAE. From donations at checkout to iftar kindness pack giveaways and rider appreciation bundles, customers, partners, and employees can show their support through noon in many ways this Holy Month.
Customers can also help others through cash donations on noon.com's checkout page. Donate an amount of your choice to provide iftar meals to underprivileged communities by clicking 'Donate to Beit Al Khair' when purchasing an item from noon. Beit Al Khair is a humanitarian foundation under Ministerial Decree No. 41 of 1989 that provides humanitarian aid to vulnerable communities in the UAE, supporting and uplifting millions of people to date.

In Dubai, team noon packed and distributed hundreds of iftar kindness packs to local communities, which included dates, water, and a variety of snacks. The initiative, supported by noon Minutes partners Masafi, BE-KIND, and Silal Fresh, is taking place multiple times throughout the Holy Month across various locations in Dubai.
This weekend, shoppers can take part in noon Minutes' 'pay it forward' iftar snack pack initiative. Customers who receive a 'Ramadan Kindness Pack' with their noon Minutes order can choose to keep it for themselves or give away to someone in need.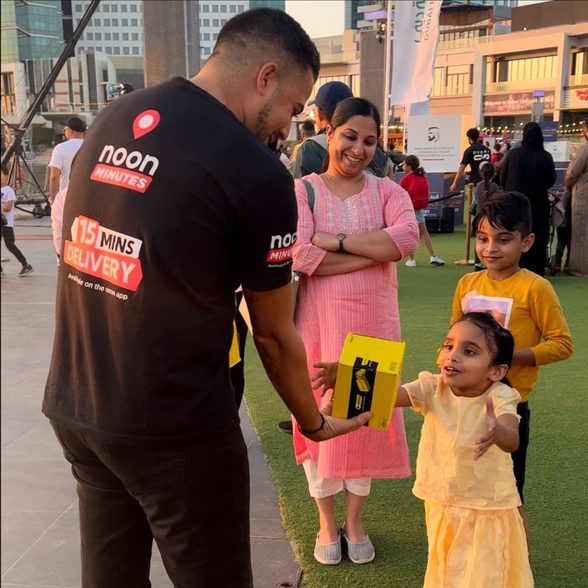 NowNow, noon.com's on-demand delivery service, has collaborated with Viva Supermarket to support delivery riders this Ramadan. For each customer order made from VIVA Supermarket's store on NowNow, an iftar gift pack will be sent to a delivery agent.
By engaging customers, sellers, and valued partners through meaningful give-back initiatives, noon aims to support local communities in extending kindness to others. Customers can find out about new initiatives by going to noon's social channels or the homepage of noon.com.