From a limited-edition macaron box and the specially crafted Ramadan set menu to special entremets and customised gift hampers, Ladurée brings endless ways to celebrate the Holy Month with your loved ones.
To embrace the divine spirit of the season, Ladurée is offering unmissable and timeless experiences with their exclusive Ramadan collection crafted for the first time to create exquisite memories with your friends and family. Indulge your senses in the authentic French experience and savour delectable dishes from the carefully curated Ramadan set menu. A high-end Paris-born dessert brand famous for its macarons, Ladurée boasts a world of luxury infused with a beautiful setting and classic elegance.
Exclusive Ramadan Macaron Box
Surprise and delight your loved ones with iconic macarons boxes perfect for gifting.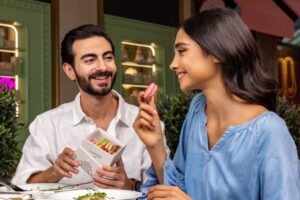 This Ramadan, your perfect gifting solution is at Ladurée. Indulge in sweet sophistication with the first-ever creation for Ramadan with the recherché Ramadan Macaron boxes that truly capture the essence of the season. Treat your friends and families to a delectable collection of signature macarons which come in an exquisite box consisting of an assortment of essential Ladurée flavors: chocolate, vanilla, pistachio, raspberry, lemon, coffee, and caramel.
Date– Available daily
Price– AED 149 for a box of 8 macarons
AED 279 for a box of 16 macarons
A Delectable Set Menu for Iftar
Savour the flavours of the season with a unique culinary experience.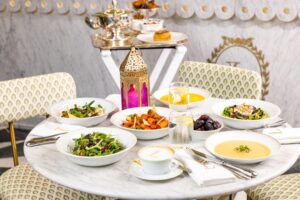 Looking for a sophisticated Ramadan indulgence? Ladurée, a world of luxury, prepares an exquisite Iftar set menu tastefully curated for the quintessential Ramadan dining experience, providing the ideal opportunity to reminisce with friends and family.
Escape to the luxurious setting and experience culinary finesse while you explore plenty of options to break your fast with a selection of delicious starters, succulent mains and a choice of macaron to tantalize your tastebuds. The highlights include Crispy rice green caviar, Halloumi sticks, Lentil soup, Mushroom soup, Quinoa salad, Lentil salad, Rigatoni Arrabiatta, Chicken vol au vent, Mushroom asparagus risotto, Grilled salmon and many more. Finish the extravagant feast with a selection of flavorful macarons.
The set menu Iftar takes place daily from sunset to 11 pm and is priced at AED 209 per person.
Date: Available daily/ Sunset onwards to 11 pm
Price: AED 209 per person
Special Ramadan Entremets
A must-try dessert this Ramadan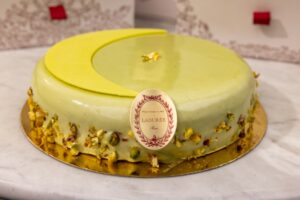 Inspired by the Holy Month of Ramadan, guests can discover a new flavour of entremets created by the renowned Patisserie brand Ladurée. For a memorable dessert this season, indulge in Ladurée's irresistible Ramadan entremets.
Elevate your dining experience with the specially customised large cake which comprises Almond duja, Pistachio madeleine biscuit, Almond crémeux and Light pistachio Chantilly resulting in an exquisite creation that makes for the perfect sweet note for Ramadan gatherings.
Treat your friends and family to the decadent entremets created for a pax of 6 and 8 each available daily throughout the month of Ramadan and add a lasting memory to their gourmet moment.
Date: Daily
Price: AED 299 for 6 pax
­­­AED 349 for 8 pax
Ramadan Gift Hampers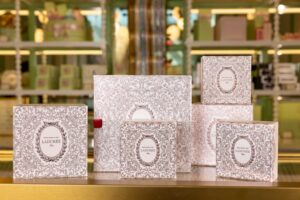 Surprise loved ones with sweet indulgence from the renowned French patisserie and Bakery brand, Ladurée. Guests can choose unique and elegant gift hampers, customize and select an array of Ladurée collections featuring signature macarons, pastries, delicatessen, and many more sweet treats.
For more information, please visit https://www.laduree.ae or @ladureeuae on Instagram